Covid-19 has had a dramatic impact on the way in which Australians are living their day-to-day lives; affecting routines, living environments, and of course, how we exercise. Since the restrictions were originally introduced, then eased, and in some locations becoming more extreme, Australians have had to adapt their habits and schedules accordingly, and fitness service providers have had to rapidly adjust to stay useful to their clients.
At Select Opinion Leaders we asked Australians how their physical activities were altered by the implementation of the restrictions, and how far their motivation has been tested in the process. We check in on how Aussies feel their gyms and other fitness providers have adapted to this new reality, and we explore the challenges that fitness providers may face as we move forward.
Are at-home work-outs here to stay?
Only last November, a Forbes article released findings on fitness industry trends, including a conclusion that "working out at home is not a trend", but merely a revolving fad that fluctuates in winter months or in relation to short-lived resolutions (i.e. after New Year's). It is amazing how a pandemic can cause a total reversal of concepts that were previously considered a certainty. Our fitness industry could potentially be faced with an upward trend of 'working out at home', even after restrictions have eased. Users have now experienced a greater ease of access, and the opportunity to access classes at times that suit them and from locations anywhere in the world. Have these changes shifted how users will engage with gyms when in the past, the location was a main factor in choosing a gym? Could this also result in a new need that providers can strive to meet in the future of fitness?
Prior to Covid-19 restrictions, nearly 8 out of 10 Aussies were regularly partaking in physical activity, of whom over half were doing so with an in-person training, either in a gym, fitness centre or another form of training session (e.g. an outdoor bootcamp or personal/group training). Working out in some form at home with minimal to no equipment was being conducted by around 35% of Aussies, and with equipment, by 19%. This may have been in conjunction with other exercise they were doing outside of the home.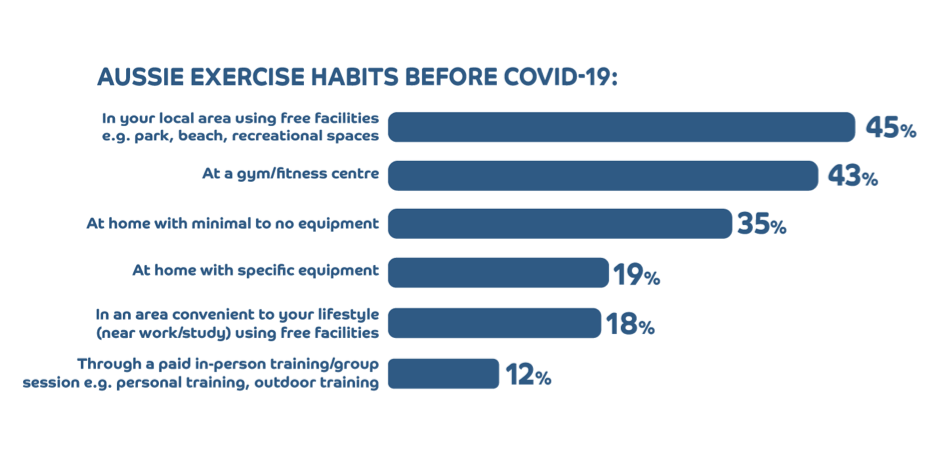 Since the restrictions came into play, more Aussies are exercising than previously, and working out at home has increased by 13%. A rise in the number of available exercise apps, free at-home exercise videos, and fitness providers switching to online will all play a part in Aussies finding new ways to exercise. "You get more inventive with different ways to exercise", a respondent expressed when asked if the Covid-19 situation has provided any benefits for their fitness. In reality, the restrictions may have in fact encouraged people to be less confined to their usual exercise choices, broadening their perception of available options – "I undertook new exercises which I wasn't doing previously by using you tube" one respondent explained.
We made goals, but did we stick to them?
During the initial restrictions over half of Aussies created or started a plan for regular exercise despite the new constraints, such as the closure of gyms and fitness centres (54%). Prior to this time, around 2 in every 10 Aussies were not performing regular exercise, however of these people, 24% decided to take action by planning to be active during the period of restrictions. Despite all the negative impacts that Covid-19 has had, fitness may be one factor that has improved for Austrailans as a result of the recommendations and restrictions.
Nearly all of us agreed that physical activity is essential during time of 'lockdown' measures – with 99% of Aussies feeling it was important to some degree. Why do we value it so much during this time? Physical activity 'to keep mental health stimulated' was the most common reason given (82%), followed by 'to improve mood and overall emotional well-being (72%). Of course, we also appreciate the physical benefits, with 'maintaining fitness' (75%), 'managing weight' (67%) as well as 'to make up for reduced physical activity' (60%) all being factors playing on our minds.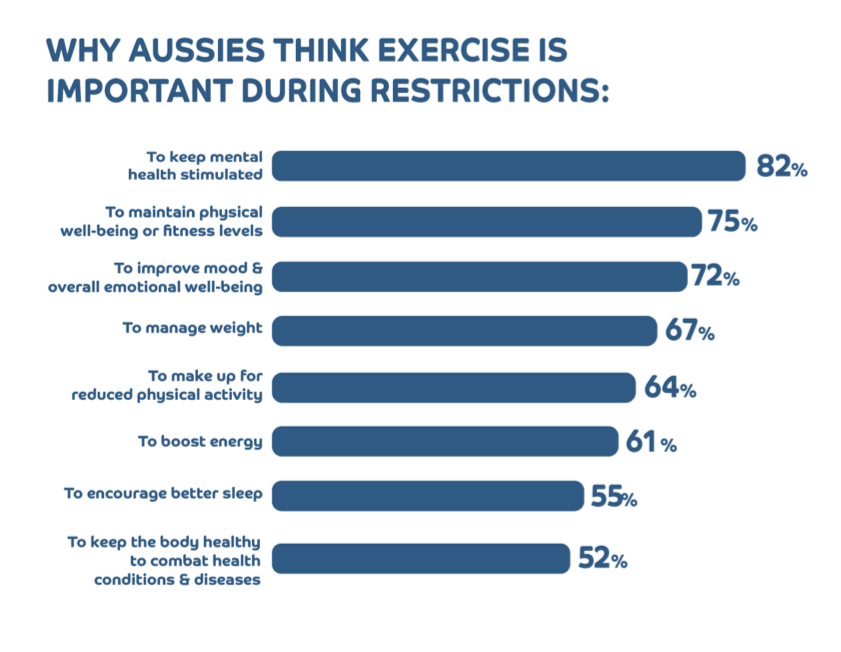 While Australians thought exercise was quite important, and more than half of us made goals, we didn't necessarily stick to our intentions. For half of the population, motivation either remained constant throughout the period (27%) or only mildly dropped so that they were able to maintain exercise but not at the rate they had planned (33%). For the remainder of Australians, the changes to our lifestyles has had a diminishing effect on morale when it comes to working out – around 23% lost motivation and dropped their level of activity, and about 10% stopped exercising altogether. Motivation was generally lower in NSW and VIC, where there have been more recommendations and restrictions.
Walking, running, and buying overpriced equipment…
It is no surprise that the most popular current physical activity is walking – of those exercising during this period 74% listed this as a physical activity they are partaking in. Running was the second most common form of exercise (20%), followed closely by doing weights (19%).
Suppliers of fitness equipment certainly experienced a surge in sales after the initial restrictions, with nearly 2 in every 10 Australians deciding that they needed to purchase equipment in order to maintain their physical exercise at home (18%). Likely due to the sudden increase in demand, the majority of those who purchased equipment were not able to source exactly what they had wanted (70%), and around a quarter of people felt that they had to pay too much (26%). For those that purchased equipment during this period, the average household spend was estimated at nearly $400.
A pandemic of pivoting PTs!
It has no doubt been a challenging time for fitness service providers, with closures and restrictions still in place in some states. However, of those surveyed who were utilising a fitness service prior to the restrictions, nearly all agreed that their provider adapted well to the situation (90%). The vast majority of clients stated that they have been granted a financial cut from their gym/fitness provider, with 61% reporting having their payments paused, and 18% offered a reduction in their fees. In terms of keeping the momentum going for their clients, the most common changes by providers have been streaming classes (55%), uploading videos of home work-outs (41%) or even hiring out their equipment (15%).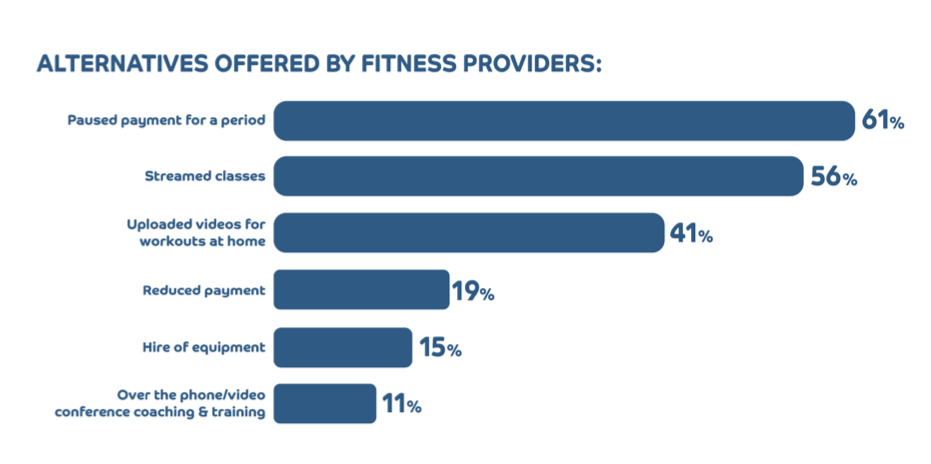 While fitness centres and supplies have adapted to provide at-home alternatives, some of our respondents pointed out the drawbacks of exercising at home. "I felt if I tried too hard in certain exercises I would hurt myself – without the benefit of the [gym environment] to correct posture." However, this does not mean that all respondents felt this way, and gyms and fitness providers may need to consider that they may have different or new customer segments, who now value the flexibility of being able to exercise to their own schedule and in the comfort of their homes. [Quote)
With more Australians exercising, gyms and fitness providers may have a larger pool of potential customers. However with alternatives on the rise and not restricted by location, fitness services may have to continue to expand their offerings. As one respondent explained, "I became more inclined to look for options like exercise apps", while another expressed how a new way of exercising can easily become a favourite, "I found this online yoga person and will continue doing that".
Hidden in plain sight…
Another source of new options for exercise was the simple fact that we are simply more confined geographically, and with more Australians out walking it has provided the opportunity for some to find aspects of their local region that they had previously not known of – "I loved exploring the local area and found an absolute cracker of a walk!" shared one respondent. In fact, 33% of Aussies said that they are more likely to include exploring their local area as part of their exercise as a result of the restrictions.
Many things have changed in the way Aussies are exercising, but how will this affect the future of the industry? Maybe more people will incorporate walking and running into their physical exercise. Some may now greatly appreciate activities that they can do in their local area. Perhaps others have been swayed into the convenience of online options when it comes to fitness training and workouts. Many more people now own exercise equipment in their homes, and a significant group of exercising Aussies have now experienced a lifestyle where they have maintained a fitness routine with far less dependence on a provider.
Many of these options were always available to us but hidden by the idea that traditional methods of face-to-face training were necessary to maintain motivation and routine. Face-to-face fitness providers need to consider that their offerings may need to evolve alongside Australia's changing views of exercise..
As for being the fittest we've ever been, well Aussies should be proud that they have aspired to (and in most cases achieved) a level of physical activity during a time of disruption. One thing is for sure, like many other things in our world, the fitness industry and our exercise habits as a nation have been changed and might not return to the way things were.
843 Australians were surveyed through Select Opinion Leaders in August.