Australia is one of the leading countries in the world when it comes to offering access to midwife-led maternity services – considered by many as the 'gold standard' of care for women.
These services, including the increasingly popular Midwifery Group Practices (MGPs), help provide ongoing care for mothers, including access to the same primary midwife or group of known midwives throughout pregnancy and the early postpartum period.
Studies suggest that the MGP model leads to improved outcomes for mothers and babies, including fewer induced labours, fewer assisted deliveries and less epidural analgesia.*
However, despite recent advances in opening up MGPs to women in rural areas, access to these services remains largely concentrated in cities. The popularity of non-traditional antenatal care is increasing and demand among expectant mothers remains high.
Speaking after the launch of a new midwifery group practice in rural north-west Queensland, Western Sydney University Professor of Midwifery Hannah Dahlen said: "We know it leads to less intervention, we know that it leads to greater satisfaction, to cost savings, and fewer babies die as a result of having a midwife provide your care.
"Yet we still have fewer than one in 10 women who can access it, and the majority of those women are accessing it in our big cities, not in the rural and remote areas in Australia."
With so much evidence in support of this approach, why is the MGP model not more widely adopted, and would a shift towards caseload practice mean for midwives and their working relationships with other medical professionals?
Overwhelming support for continuity of care models in maternity services
With so many studies showing positive clinical outcomes, it would seem like a natural evolution to move toward a more midwife-led, mother-centric care model across all states and territories. In order to understand the feasibility of a widespread rollout, it is important to get a deeper understanding of the wider implications from the midwives themselves.
An Ekas survey of registered practicing midwives on our Medical Opinion Leaders panel found 100% of those polled agree more can be done to provide continuity of care to birthing mothers.
The poll findings, released this week, also revealed 82% believe that midwife practice groups are the most ideal model in offering continuity of care and should be implemented Australia wide.
Many midwives who took part in the poll spoke positively of their experiences working as part of an MPG due to the rapport they can build with mothers and the invaluable in-depth knowledge a midwife has of a woman's pregnancy history.
One commented: "I have worked in this model and birthed in this model and I believe it improves satisfaction levels for both mother and midwife. The strong relationship built between mother and midwife enables meaningful and effective communication and allows opportunity to discuss and debrief as necessary."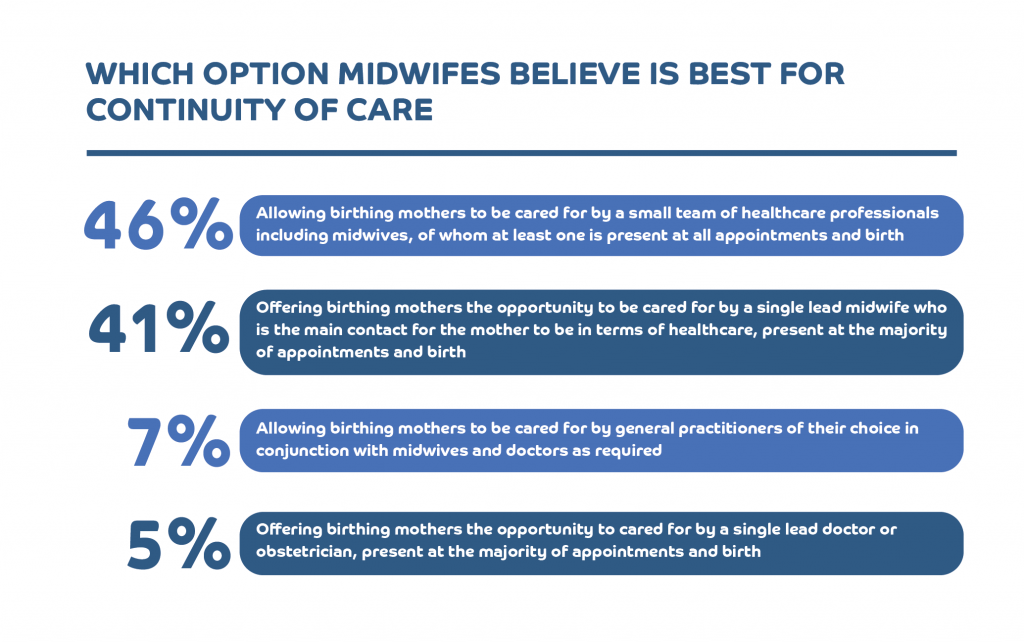 Breaking down barriers to midwife-led care
Despite mothers, midwives and academics all backing the need for more MGPs across the board, current provision lags behind demand. It can be a lottery for many expectant mothers as to whether they have access to this best practice in maternity care. And although Australia and New Zealand lead the way by offering such provision when many countries are still in the trial phase, there is still a long way to go before all pregnant women who are considered suitable patients for a midwife-led practice are lucky enough to access one.
When asked what they believed were the main obstacles to a nationwide rollout of the MPG model, the midwives we polled cited staffing, availability and rostering as the biggest hurdles to overcome.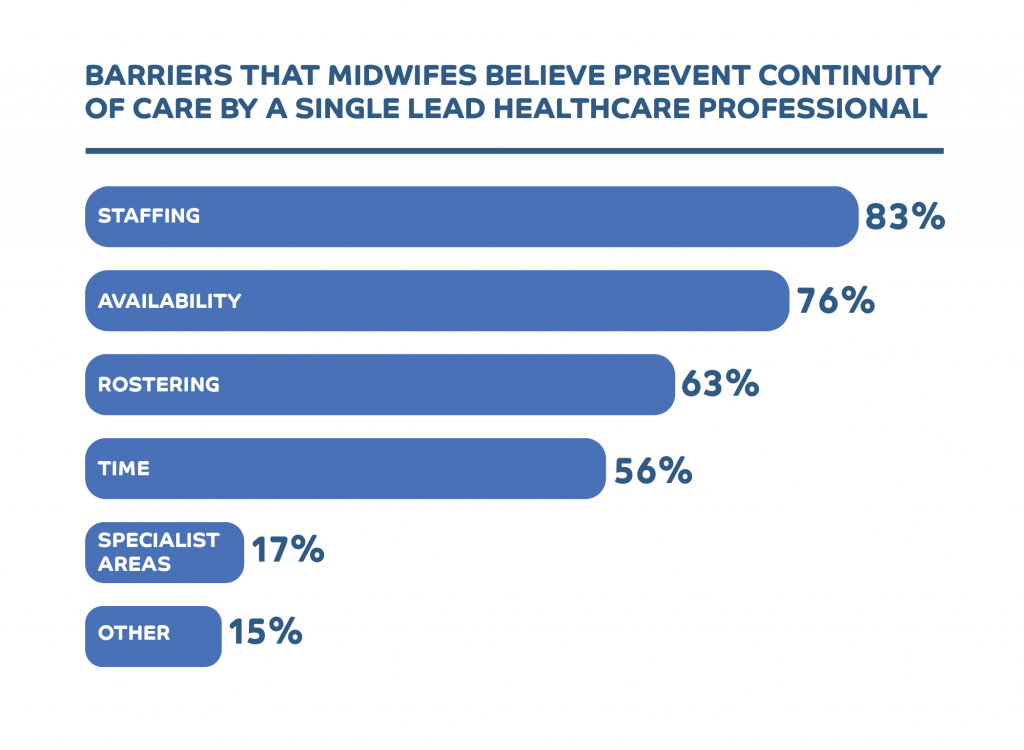 The 'caseload midwifery' model adopted by many MPGs means midwives often work on call, rather than in a roster-based system. They usually work in smaller groups, with a primary midwife working with back-up midwives dedicated to a woman throughout her pregnancy. The goal is for the primary midwife to provide care from the moment an expectant mother is referred right through to delivery and beyond. However, the back-up midwives will be available should the primary midwife be unavailable for any reason.
Caseload midwives continue to collaborate with obstetricians and other medical specialists as required, but the model recognises the expertise of midwives and the vital role they play in supporting women through childbirth.
"I am lucky to work within a team that has open discussion re women's care. We work together to provide the safest care. Every woman is given options as to her care within a safe practicing environment and the discussion always includes a provision for medical intervention if necessary," explained one participant from our poll.
It is this specialist knowledge that makes midwife-led care so successful and sought-after by mothers, who want to feel supported in their decisions before, during and after childbirth.
Avoiding unnecessary intervention in childbirth
Why is a deep understanding of a woman's pregnancy history and birth plan so important? Many midwives believe it not only leads to higher satisfaction rates among mothers – thus having a positive impact on the child – but it also reduces the likelihood of unwanted interventions in childbirth.
83% of the midwives we polled said they had been in a situation where a doctor proceeded with options not preferred by mothers, even though medically it was not essential at the time.
While on the face of it this finding may indicate friction in the relationship between obstetricians and midwives, the general feeling among midwives is that there is a great deal of mutual respect between the two.
In fact, 80% believe doctors are receptive to their recommendations and to working with midwives to support mothers' choices.
One respondent explained: "The doctor/midwife barrier is breaking down, especially if there is mutual trust."
Pregnancy care can be a controversial topic that creates divisions between mothers, birthing experts and healthcare professionals over the 'right' approach. Many movements are either vehemently anti-intervention or strongly obstetrician/clinician led, but perhaps the optimal reality is a hybrid approach. That is: utilising the deep expertise of midwives and many hours of face-to-face contact they have had with their patients to offer consistency and continuity of care, with doctors and other health professionals also providing their expertise when required.
"Research has shown that continuity of care creates the safest birthing experience," commented one midwife on our panel. "Mums experience the bond with a trusted midwife… [and] and it is an honour and privilege to be with them throughout the journey and transition."
*(An evaluation of Midwifery Group Practice. Part I: Clinical effectiveness – April 2019).
The Medical Opinion Leaders poll surveyed n-41 practising midwives in October 2020.
Key findings:
100% of the midwives polled agree more can be done to provide continuity of care to birthing mothers
83% have been in a situation where a doctor has opted for options not preferred by mothers even though medically it was not essential at the time.
80% agree believe doctors are receptive to their recommendations and working midwives in supporting mothers' choices
88% think midwife-led practice models are the best way to provide continuity of care
78% believe birthing mothers are generally satisfied with their experience of midwives and hospital care during labour and birth